Editor's note: Find the latest COVID-19 news and guidance in Medscape's Coronavirus Resource Center.
President Donald J. Trump this week added a new medical adviser to the White House's coronavirus response and the move has met with criticism, praise, and wide speculation.
Scott Atlas, MD, a senior fellow at Stanford University's Hoover Institution, a conservative think tank, is not an infectious disease expert as are Anthony Fauci, MD, and Deborah Birx, MD, coronavirus task force members with whom Trump has openly clashed over the course of the pandemic.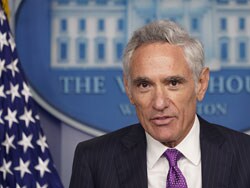 Atlas is board-certified in diagnostic radiology and served as a professor and chief of neuroradiology at Stanford University Medical Center in California from 1998 to 2012.
He received a bachelor's degree in biology from the University of Illinois at Urbana‐Champaign and his medical degree from the University of Chicago School of Medicine. Atlas has worked as a medical adviser for Republican presidential candidates including Mitt Romney.
According to his biography at the Hoover Institute, Atlas had a Fulbright Award to collaborate with academic leaders in China on structuring healthcare for China, and has advised leaders on healthcare and medical technology in several countries in Latin America, Southeast Asia, and Europe.
His views are aligned closely with Trump's views on the virus, particularly with regard to reopening schools, avoiding lockdowns, and resuming some sports.
CNN reported that, although Atlas was first publicly announced on Monday, he has been informally advising the president for weeks, citing multiple sources with knowledge of the relationship.
"A New Level"
Trump said, in announcing the appointment, "Scott is a very famous man who's also very highly respected — Stanford. And he's working with us and will be working with us on the coronavirus. And he has many great ideas. And he thinks what we've done is really good, and now we'll take it to a new level." 
Atlas has consistently downplayed the risk for COVID-19 infection in children and young adults.
On Fox News' "The Story," Atlas told host Martha MacCallum, "I'm not sure how many times it has to be said, but the risk of children from this disease and the fatality is nearly zero. The risk of children for a significant illness is far less from the seasonal flu."
Critics point to studies that children may be carrying larger viral loads than previously thought.
New research in the journal JAMA Pediatrics shows, however, that children younger than 5 years with mild-to-moderate COVID-19 have high amounts of SARS-CoV-2 viral RNA in their noses compared with older children and adults.
And an August 6 report by the American Academy of Pediatrics and the Children's Hospital Association found that 380,000 children in the United States have tested positive for COVID-19 since the start of the pandemic, as reported by Medscape Medical News.
Rush Limbaugh was quick to praise the appointment, saying, "Scott Atlas now has Trump's ear, and he has a totally different take on all of this than Fauci had.
"Scott Atlas is a brilliant guy and he thinks by early October that we could well be burned out of COVID. In his opinion, we could see it turn inert," he said Monday, after the announcement.
But others blasted the appointment on social media.
Emergency physician Rob Davidson, MD, said on Twitter, "As a frontline Emergency Physician I find it appalling that [the president] is now officially taking pandemic response advice from a Neuroradiologist who doesn't even see patients and is a commentator on Fox News."
As a frontline Emergency Physician I find it appalling that @realDonaldTrump is now officially taking #pandemic response advice from a Neuroradiologist who doesn't even see patients and is a commentator on @FoxNews. @SWAtlasHoover is a joke and has no place offering advice.

— Dr. Rob Davidson #WearAMask (@DrRobDavidson) August 13, 2020
In a July 27 interview on Fox News, Atlas referred to what he called a "hysterical" response to case surges in several states and said lockdowns won't stop the virus.
He said people need to "get a grip…because we are becoming sort of hysterical here, but we know [there are] a lot of reasons for optimism.
"Patients are doing better, the younger people are getting most of the cases they're not gonna…have a serious problem," he said. "We know the data looks pretty good on the vaccine and [it's] amazing how fast things are going."
Atlas Promotes Return to College Football
Atlas also said on Fox News on Monday that he supports resumption of college football.
The Big Ten and the Pac-12 voted on Tuesday to suspend all fall sports, and some smaller conferences are also making the same decision.
Atlas says college students have little to no risk for COVID-19 infection at that age, and players or coaches with comorbidities could choose to opt out.
"We have to become rational here," he said. "The risk for people that age is less than seasonal influenza. I mean, you have to really look at the data. … You can't say it's all about the science and then act contrary to science."
Meanwhile, research is increasing about the virus' long-lasting effects.
Medscape Medical News reported on a July survey by the Centers for Disease Control and Prevention that showed that 35% of people with COVID-19 had not returned to normal health 2 to 3 weeks after testing positive and that, among people aged 18 to 34 years with no chronic conditions, one in five hadn't returned to their baseline health.
According to CNN, Atlas will work out of the executive office building next to the White House. The network reported that the White House declined to say whether Atlas was receiving a taxpayer-funded salary.
Marcia Frellick is a freelance journalist based in Chicago. She has written for the Chicago Tribune, Science News, and Nurse.com and was an editor at the Chicago Sun-Times, the Cincinnati Enquirer, and the St. Cloud (Minnesota) Times. Follow her on Twitter at @mfrellick
For more news, follow Medscape on Facebook, Twitter, Instagram, and YouTube.